Recent Essays and Articles
How to Beat Writer's Block
IngramSpark, November 9, 2017
I don't believe in the notion of writer's block. I think it's too easy to end up building a twisted shrine to it—to proclaim the affliction, then festoon one's writing life with it, saying, "I'm blocked," over and over again, as if abdicating responsibility for creating the blockage and waiting for magical bolts of inspiration to come down from the sky and unstopper it all (which only happens in the movies, right?). …
Why You ARE the Creative Type
Goodreads, November 1, 2017
Each year, I talk to hundreds of people who have perfected a peculiar and disturbing art: the art of telling themselves why they can't jump in and write the novel of their dreams.
"I've never taken any classes. I don't have an MFA."
"I have a lot of ideas for stories, but I'm not a real writer."
Or, worst of all, they say, "I'm not a creative type."
Special Edition: Grant Faulkner on his most treasured book
San Francisco Chronicle, October 15, 2017
I'd just been dumped in the dramatic manner that only a 22-year-old can be. My salve, as unhealthy as it might have been, was to immerse myself in tragic novels with characters careening through the fiery hells of rejection. The more self-destructive, the better. The best in this genre turned out to be Under the Volcano, by Malcolm Lowry, which tells the story of Geoffrey Firmin, an alcoholic British consul in Mexico who tries to reunite with his estranged wife when she returns on the Day of the Dead in 1938. …
Take a Story Field Trip
NaNoWriMo Blog, October 13, 2017
One of the mistaken perceptions of writers is that all of their writing gets done at their desks, that plots, characters, and the telling details that make a story blossom into life just flow out of a writer's mind and onto the page. As much as I hesitate to lure you away from maximal word production (because most of my pep talks encourage you to just keep writing in one way or another), one of the wonderful side benefits of being a writer is not just the places you get to go in your imagination, but the real places you get to go to explore your story in all of its nuances. …
One Hundred Reasons Why I Write
National Writing Project, October 12, 2017
I once told a friend that there were at least 100 good reasons why I wrote. But after I said that, I wondered if I was exaggerating. It turns out I wasn't. Here's why I write. …
Why Writing Novels Matters
Nerdy Book Club, October 6, 2017
When I was a teenager, growing up in a small Iowa town, I was a reader, and I was a writer, but it never once occurred to me to write a novel. Novels were big things that other people wrote. Adults. People who lived in New York City. People who had gone to war or lived exotic lives. I wrote in my journal, and I wrote the occasional poem or short story, but writing something as big and ambitious as a novel just wasn't something teens did. …
A Tiny Essay on Writing Tiny Stories
14 Hills
Even God knows the story can't be told in its entirety. A profligacy of words soon disorients. Rococo flourishes end as fulsome decadence. It is absence that spawns the fundamental mystery of life. Subtle gestures, dashing glances, unspoken words whisper through our days, a beguiling puzzle. …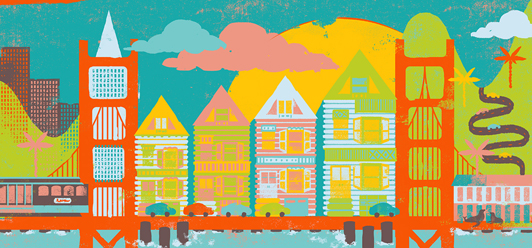 Poets & Writers City Guide: San Francisco Bay Area
Poets & Writers, January 2017
When I first came to San Francisco as a young English major during my spring break in 1987, I knew nothing of the Bay Area's literary history. I didn't know that the young bootstrapping Jack London had determinedly chiseled himself into a writer in nearby Oakland, or that Allen Ginsberg's famous "Howl" reading had riled the literary world (and its censors) in San Francisco in the 1950s. I hadn't yet read Dashiell Hammett's noir novels, nor Eldridge Cleaver's Soul on Ice (Ramparts Press, 1968), nor Armistead Maupin's Tales of the City (Harper & Row, 1978). And I had no idea that Gertrude Stein had said, "There's no there there," about Oakland (if only she could see the "there there" now). …
How a Month of NaNoWriMo Can Lead to a Lifetime of Better Writing
Writer's Digest, November/December 2016
Every writer who becomes a master goes through a training ground, whether formal or self-imposed, and there's no better boot camp for writers than the rollicking, spirited grind of National Novel Writing Month. With the heady goal of writing 50,000 words in just 30 days, NaNoWriMo not only teaches valuable approaches to the creative process, but critical habits to becoming a successful novelist.
Naked (On the Page) and Afraid
Writer's Digest, July/August 2015
Good writing requires courage—first to give voice to the truth at the heart of every story, and then to share it with a world of readers. The only way to achieve that is through an openness of spirit that can feel dangerous—or even be dangerous. Here's why embracing vulnerability could unlock important doors for you, your writing, and your career. …
Mini Might
The Writer, July 2015
I have a theory about the variety of storytelling brains – brains wired with unique proclivities, strengths and weaknesses, as if from birth. There are "plot brains," brains that immediately seize a character's conflict and visualize the character bounding and zigzagging through a series of actions, overcoming obstacles and climbing toward a telling reversal or a poignant recognition. And then there are brains like mine that see a character mainly in a single situation, a dramatic one, certainly, but one that is as isolated as a scene from an Edward Hopper painting, unconnected from what's next and perhaps even from what went before. …
Executive Director as Creative Magician?
CompassPoint
I was recently on a panel of executive directors, and I was asked, "How do you bring magic into the workplace?"
I might have blushed with embarrassment. My first thought, was, "Um, I'm not sure if I do bring magic into the workplace." I'm not necessarily a geyser of inspiration, at least not on an ordinary workday. I don't preach, swagger, or sing. I occasionally read a motivational quote or two, but only occasionally. …
Writing Flash Fiction: Telling a Story with What's Left Out
Writer's Digest, May/June 2015
We are generally taught to build our stories with more words. To plumb a character's backstory. To delve into the sensory minutia of a scene. To spin the connective tissue that builds a story's dramatic trajectory.
As a novelist, I've certainly practiced what I call an aesthetic of "maximalist comprehensiveness." I strap together crisscrossing tentacles of story lines and fill the capacious spaces of a novel's pages with layers of details. I almost always write with a sense of expanding, of putting bulk on my story's bones. …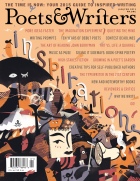 More Ideas Faster: Writing With Abandon
Poets & Writers, January 2015
A few years ago I grappled with a simple question I had never before bothered to ask myself: Did I decide on my writing process, or did it decide on me? Despite an adult lifetime of reading innumerable author interviews, biographies of artists, and essays on creativity, I realized I'd basically approached writing the same way for years. And I didn't remember ever consciously choosing my process, let alone experimenting with it in any meaningful way. …
Going Long. Going Short.
New York Times Draft Blog
I've always wanted to go long, as in writing that big behemoth of a saga called the "Great American Novel," no matter the absurdity of questing after such a holy grail. I thought the best way to understand the endless ribbons of America's highways, the oozing boundaries of our suburbia and the rhythms of life they induce in us, resided in an ever expansive aesthetic of maximalist comprehensiveness, full of crisscrossing tentacles of story lines and sentences bursting with syntactic curlicues. …
What Makes NaNoWriMo Work: Breaking Down the Mythology of the Solitary Writer
Writer's Digest, November/December 2014
Pause a moment and reflect on your image of a writer. Did you think of a writer sitting in a room alone with wadded-up paper strewn around a wastebasket? A writer conjuring a story while taking a pensive walk alone? Or perhaps a writer banging away at a keyboard in the throes of inspiration?
We tend to view writers as solitary figures, dreamy or anguished creatures immersed in their work or questing for the necessary peace to write—searching for "a room of one's own," as Virginia Woolf put it. "Writer" and "solitary" practically go together like "rock" and "group." …
Be Deluded. Be Grand.
Rhizomatic Ideas
The phrase "delusions of grandeur" generally carries a negative connotation. It connotes one who's out of touch with reality. One who is arrogant. One who expects the royal treatment.
It can be all of those things, but I want to put a twist on such notions. I posit that a writer needs to seize delusions of grandeur when they strike, to even nurture those delusions and view them as the rare and precious gems they are. …
Serialization as Writing Process
JukePop
One of the biggest challenges a writer faces is moving forward. Sounds simple, but it's all too easy to get caught in a condition I'll call "the endless loop of perfection." I have suffered from such a malady. The part of writing I like best is the shaping, shaving, and sculpting involved in revision. …
The Mad Dash Through a Novel
Grammar Girl Blog
I have a confession—I overuse the em-dash. That sentence, in fact, would have been better written with a colon. Now this isn't necessarily a bad thing—I mean, as executive director of National Novel Writing Month (NaNoWriMo)—an organization that espouses the notion of "writing with abandon" for 30 days each November to create a 50,000-word novel—dashes come in quite handy. …
Applying to a Writers Residency: An Expert Breakdown of the Requirements
Poets & Writers
Every writer I know craves one thing: a peaceful period of uninterrupted time dedicated to writing. A room of one's own, in other words, with maybe some meals thrown in and a little pocket money. Or even just the room. …
100-Word Stories: Writing with Gaps
Brevity
Writers are presumed to be lovers of words. They're called wordsmiths, praised for their lyricism, and celebrated for capturing telling details. Stories are built through text, after all, so we strive to learn the fine art of vivid verbs, hone an ear for dialogue, and absorb new vocabulary. These are all valuable tools, but one of the most important tools of writing can be neglected by attending only to the words of a story. I call that tool "minding the gaps." …
Poet Laureate Kay Ryan: Poet as Teacher, Teacher as Poet
The National Writing Project
Although Kay Ryan has kept her life as a teacher separate from her life as a writer, her teaching and poetry share similarities. They both focus on fundamentals and a search for the possibilities of expression within the limits of small spaces. …
The Last Book I Loved: Reality Hunger
The Rumpus
At the heart of Reality Hunger is Shields's critique of the literary world's rather stodgy proclivity to privilege the traditional realist novel as the mirror of reality—a representation of reality that has held firm since the 19th century, despite all of the world's changes. …