Latest Thoughts
Today marks the release of my collection of 100-word stories, Fissures, so I thought I'd share the book's preface to introduce it. Coincidentally, while preparing for a reading I'm giving at U.C. Davis later this week, I stumbled on this quote from Baudelaire that describes the whole enterprise of writing these short little ditties, which […]
Writing Projects Large and Small
I found my creative and professional home in NaNoWriMo. Let's just say writing with abandon suits me.
It started out as a random writing experiment. It led to co-founding a lit journal. And writing hundreds of 100-word stories.
Recent Writings
Writing Flash Fiction: Telling a Story with What's Left Out
Writer's Digest, May/June 2015
We are generally taught to build our stories with more words. To plumb a character's backstory. To delve into the sensory minutia of a scene. To spin the connective tissue that builds a story's dramatic trajectory.
As a novelist, I've certainly practiced what I call an aesthetic of "maximalist comprehensiveness." I strap together crisscrossing tentacles of story lines and fill the capacious spaces of a novel's pages with layers of details. I almost always write with a sense of expanding, of putting bulk on my story's bones. ...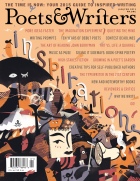 More Ideas Faster: Writing With Abandon
Poets & Writers, January 2015
A few years ago I grappled with a simple question I had never before bothered to ask myself: Did I decide on my writing process, or did it decide on me? Despite an adult lifetime of reading innumerable author interviews, biographies of artists, and essays on creativity, I realized I'd basically approached writing the same way for years. And I didn't remember ever consciously choosing my process, let alone experimenting with it in any meaningful way.
Going Long. Going Short.
New York Times Draft Blog
I've always wanted to go long, as in writing that big behemoth of a saga called the "Great American Novel," no matter the absurdity of questing after such a holy grail. I thought the best way to understand the endless ribbons of America's highways, the oozing boundaries of our suburbia and the rhythms of life they induce in us, resided in an ever expansive aesthetic of maximalist comprehensiveness, full of crisscrossing tentacles of story lines and sentences bursting with syntactic curlicues. …
Mr. American
Digital Americana, Fall 2013
Will looked through the gap in the soiled floral drapes, forgetting the girl and her drunken ribaldry for a moment. The hotel lay at the edge of New London in a no man's land between farmland and the highway heading to Des Moines. A slanted barn lay sketched on a hill covered with a scrim of snow. Cows ate the scrubs of cornstalks in a field nearby, and a solitary tree, speckled with the last frazzled leaves of autumn, clawed at the sky. …
Morphine Drip
Green Mountains Review, Spring 2014 Issue
"It's what we remember," Dad said, as if clinging to a frayed thread tossed to a man overboard in a storm. He said something about a boy named Jim, his pants down to his ankles, his tuxedo shirt unbuttoned. Long baby hairs on smooth cheeks. Frogs croaking in the woods, gin rickeys under an August moon, the violet night. Outside a few parked cars, inside the ruckus of others. "Never underestimate the comfort sin can provide," he said. "A lifetime of bedtime stories all to your lonesome." Skin crinkled around his eyes. His dry lips pressed feebly around a straw.